ROLE
User Research, Ideation, Visual Design, Brand Identity, User Testing, Prototyping
TOOLS
Sketch, Origami Studio, After Effects
TEAM
Ian Orden, Cheston Sin, Leah Wei, Candice Zhou
TIMELINE
January–March 2019 (12 weeks)
Although we live in a society more digitally connected than ever, 1 in 5 Canadians identify as being lonely, and more are living alone.
In search of a personal connection, joining a club or attending large events can be daunting and tedious. Current social apps are often based on superficial factors such as looks or skillsets and create pressure to establish the intent of a relationship before even getting to know someone (i.e. Tinder, LinkedIn). What if you just wanted to meet someone new without any pressure?
A new way to meet people—EatTogether fosters in-person connections by uniting people of all identities through the love of food.
EatTogether is a social app that keeps users anonymous until they meet—eliminating the pre-meeting process. In doing so, the app fosters diverse encounters and in-person connections over a very human activity—sharing a meal. Users simply select their preferred time, table size and location, and they are seated with others who have chosen the same. Deeper discussions are sparked by random conversation card questions and the option to reconnect with previous diners will share two people's contact information if mutually selected. Interactions start in-person, helping avoid selective biases based on appearance/interests and in turn encouraging an open-minded experience.
How might we comfortably and conveniently bring together open-minded individuals over shared restaurant meals without pressure or judgment?
Initial Research
We began by developing a detailed PACT analysis (People, Activities, Contexts, Technologies) to contextualize the product and its users. We also employed the MoSCoW method (Must have, Should have, Could have, Won't have) to prioritize the features we initially put forth.
From there, we also created user personas and user scenarios, before conducting 11 structured user interviews across a diverse demographic. These interviews were an excellent starting point to both validating the need for the app and investigating some of the features on our MoSCoW chart. For example, features such as joining tables with friends, blocking users, achievements, and chat functionality were contemplated after the interviews.
Information Architecture and Wireframing
With our research in hand, we started by developing the architecture for the app. The following is our first version, followed by a Site Map 2.0 that was influenced by user testing.
We then began to develop the designs, moving from sketches to wireframes to higher-fidelity screens.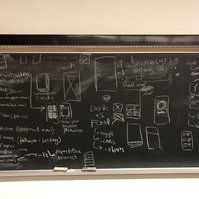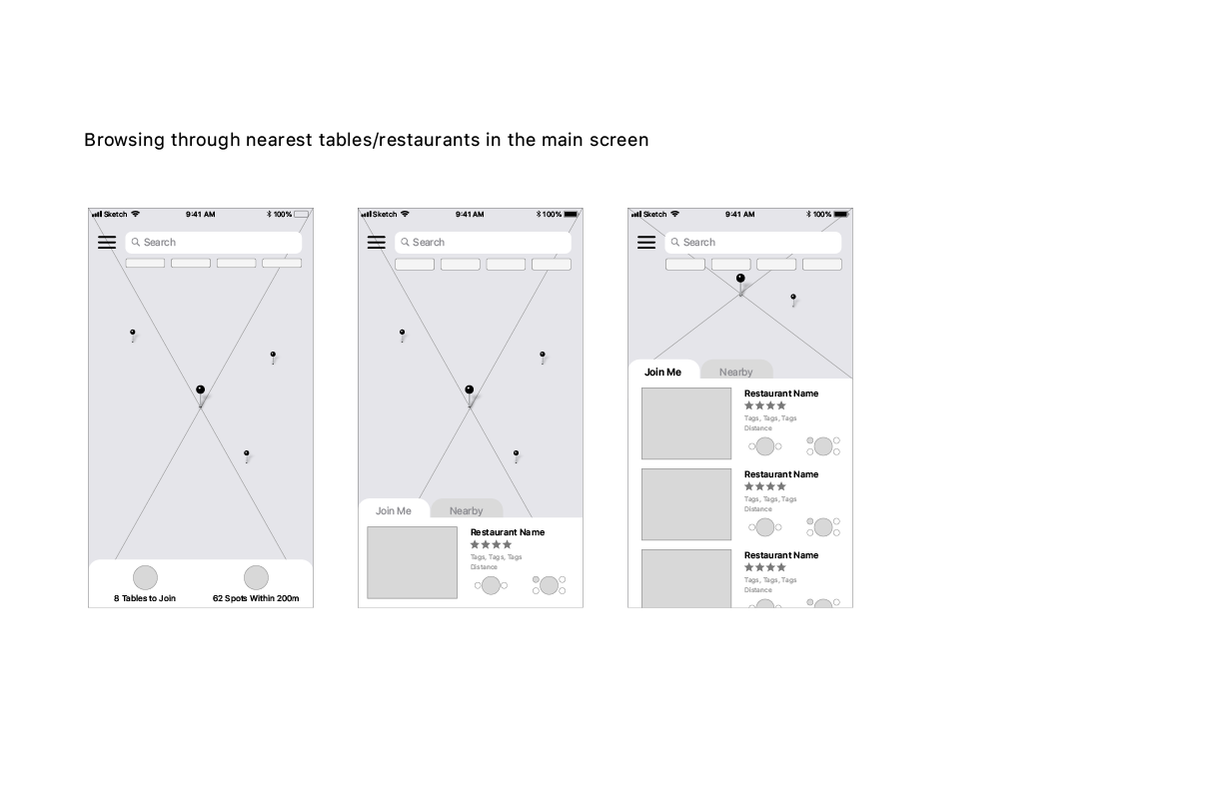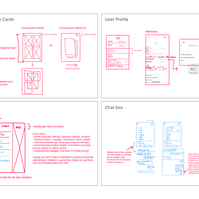 Visual Style
Before we began prototyping for user testing, a comprehensive brand guideline was created to make sure all design elements were cohesive throughout the product.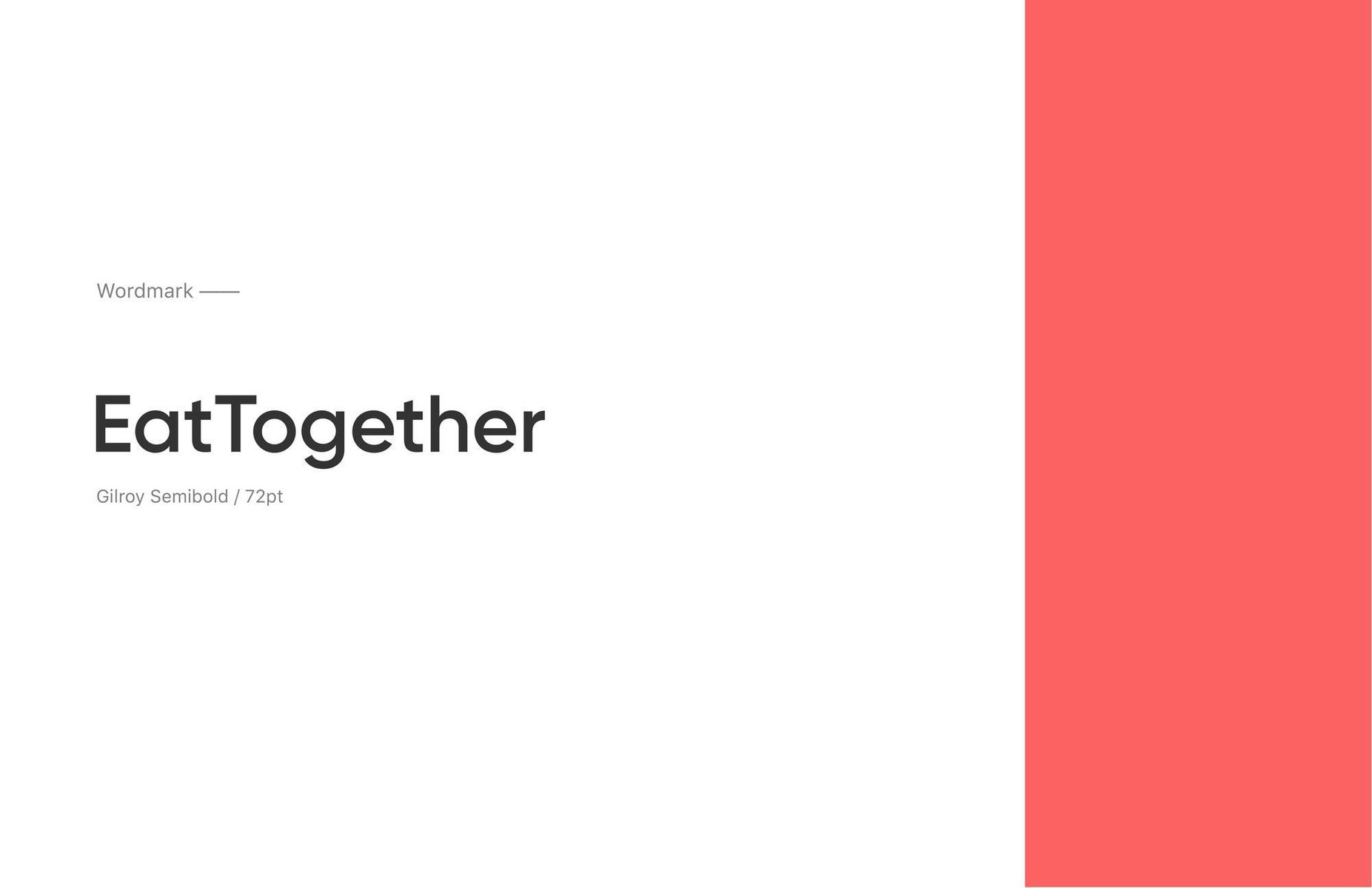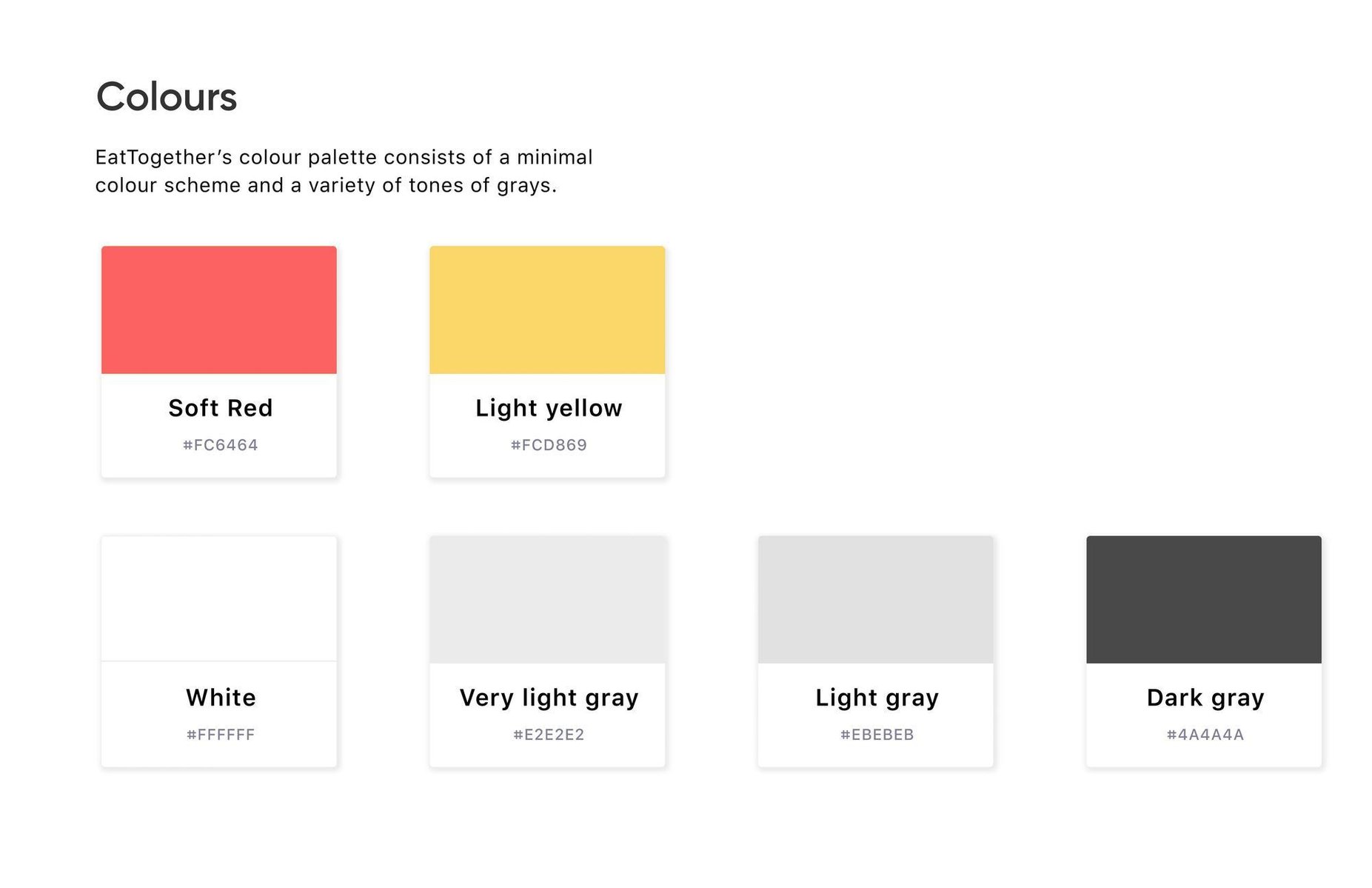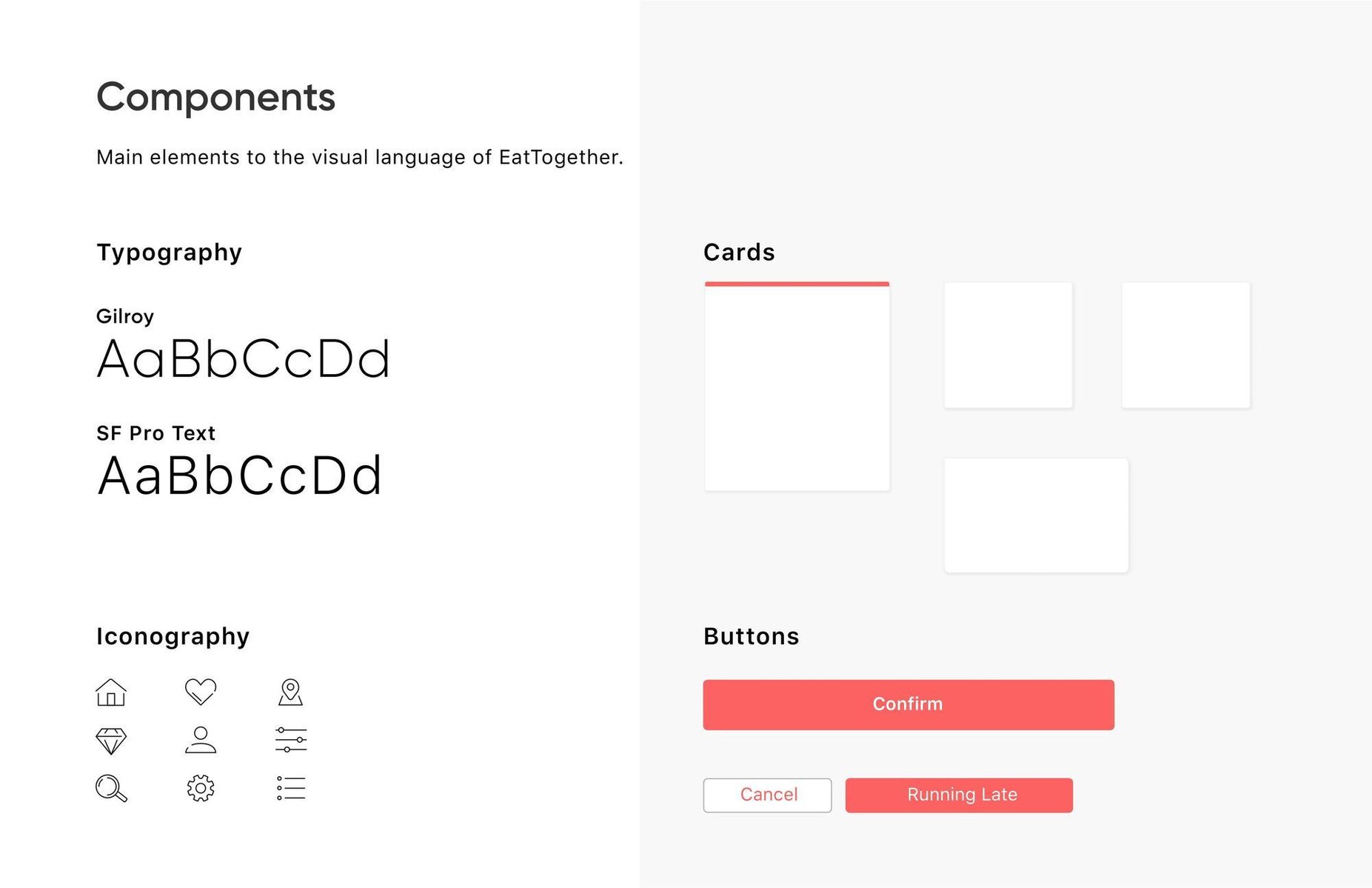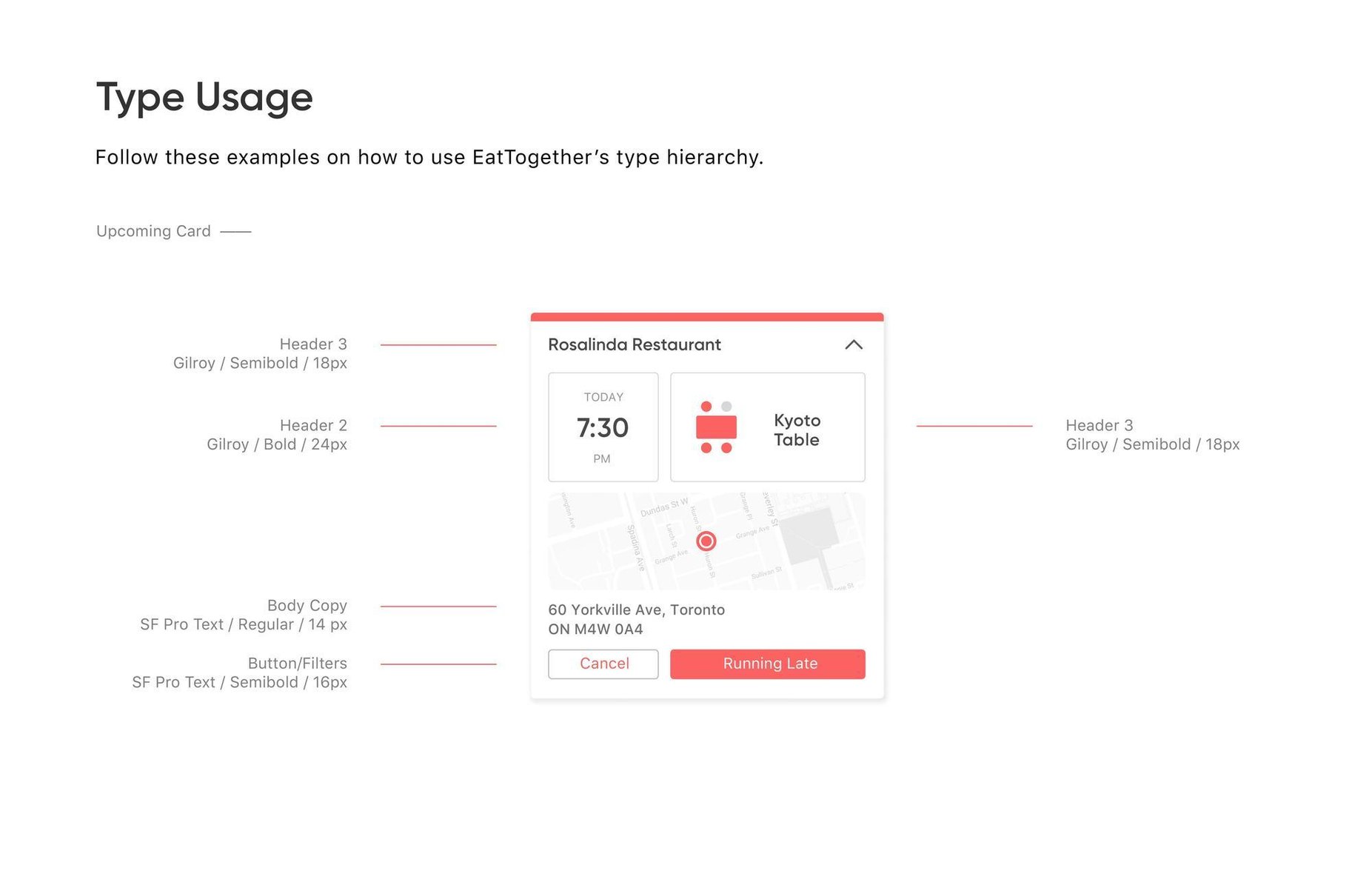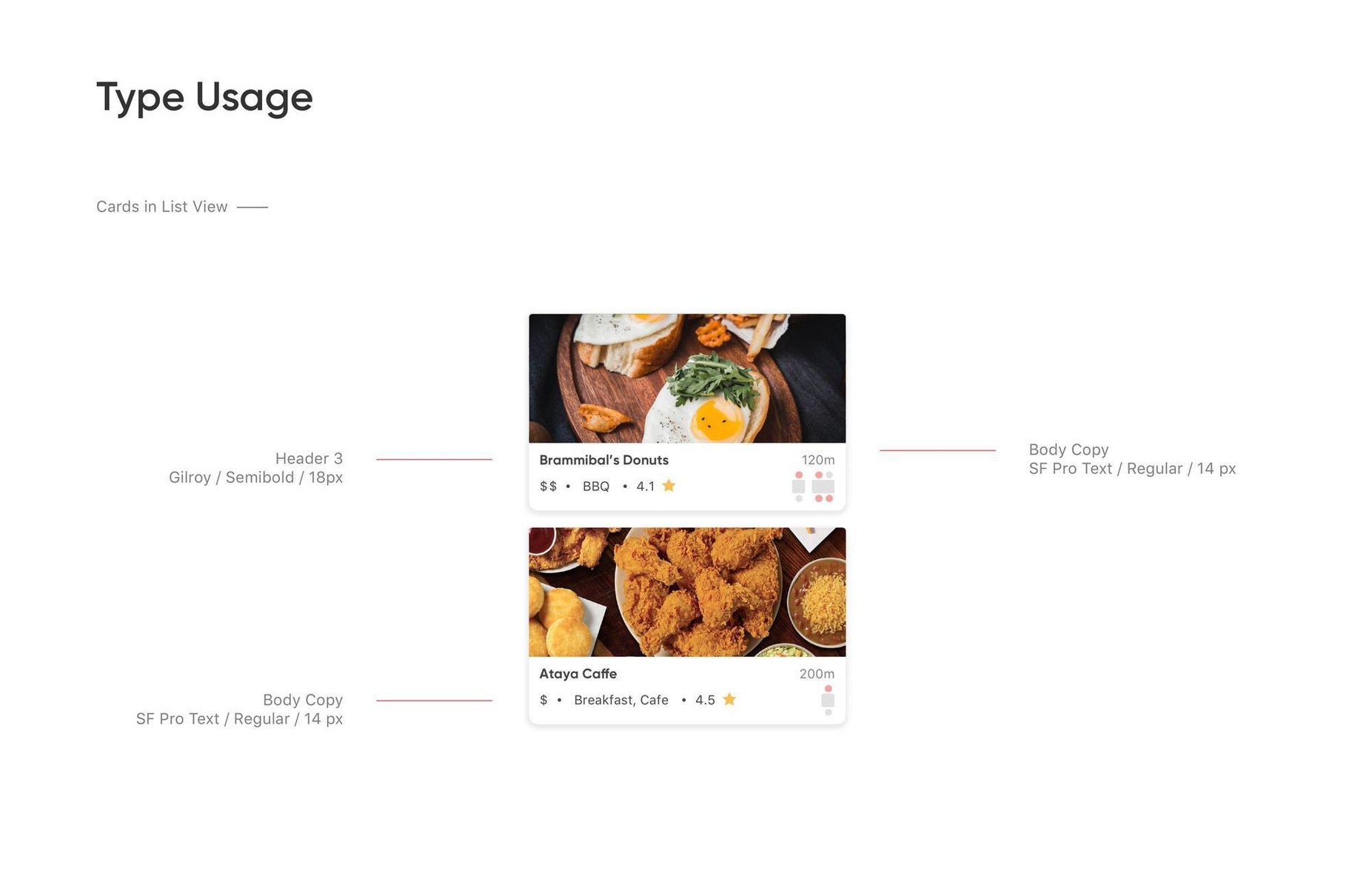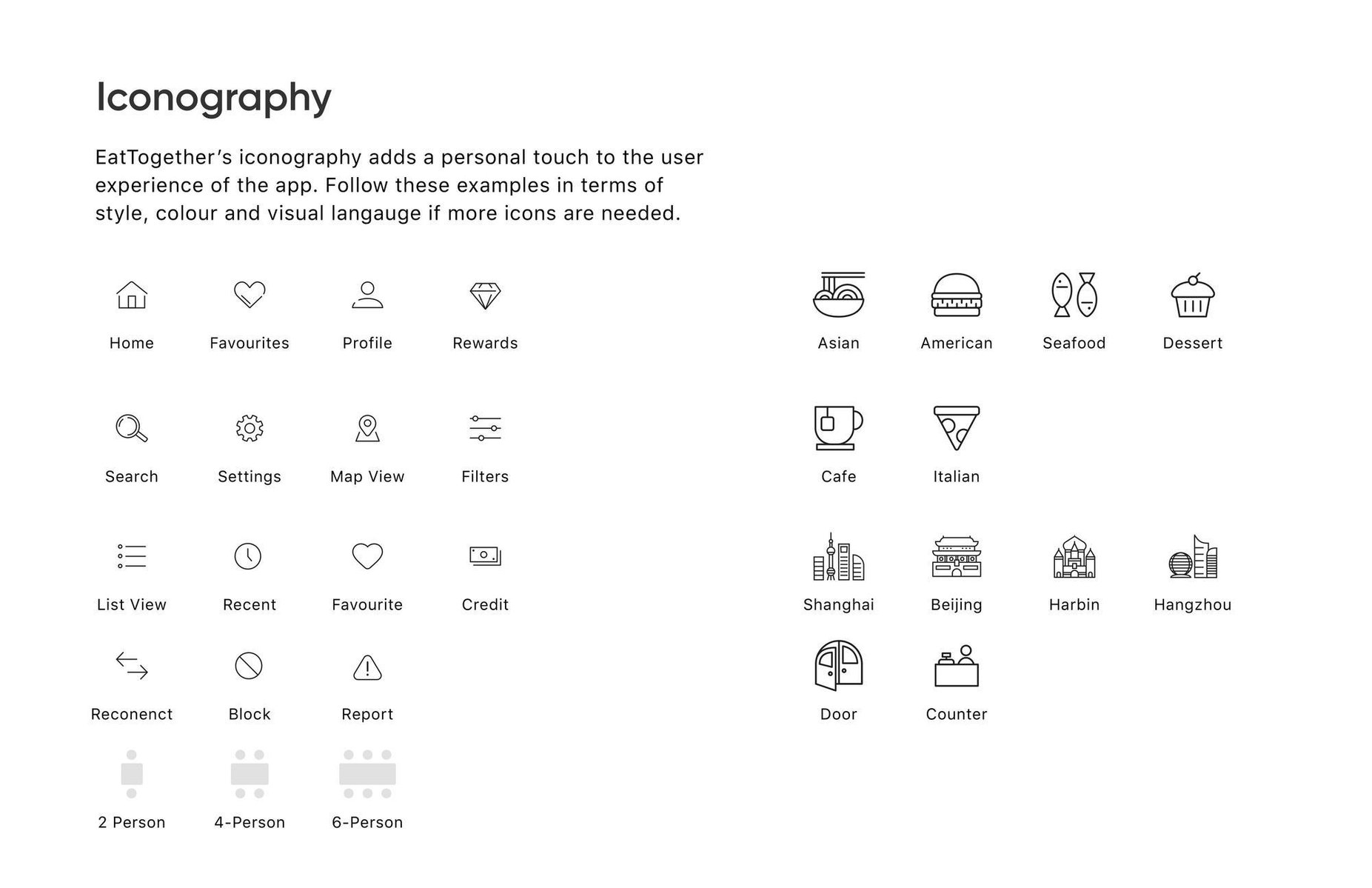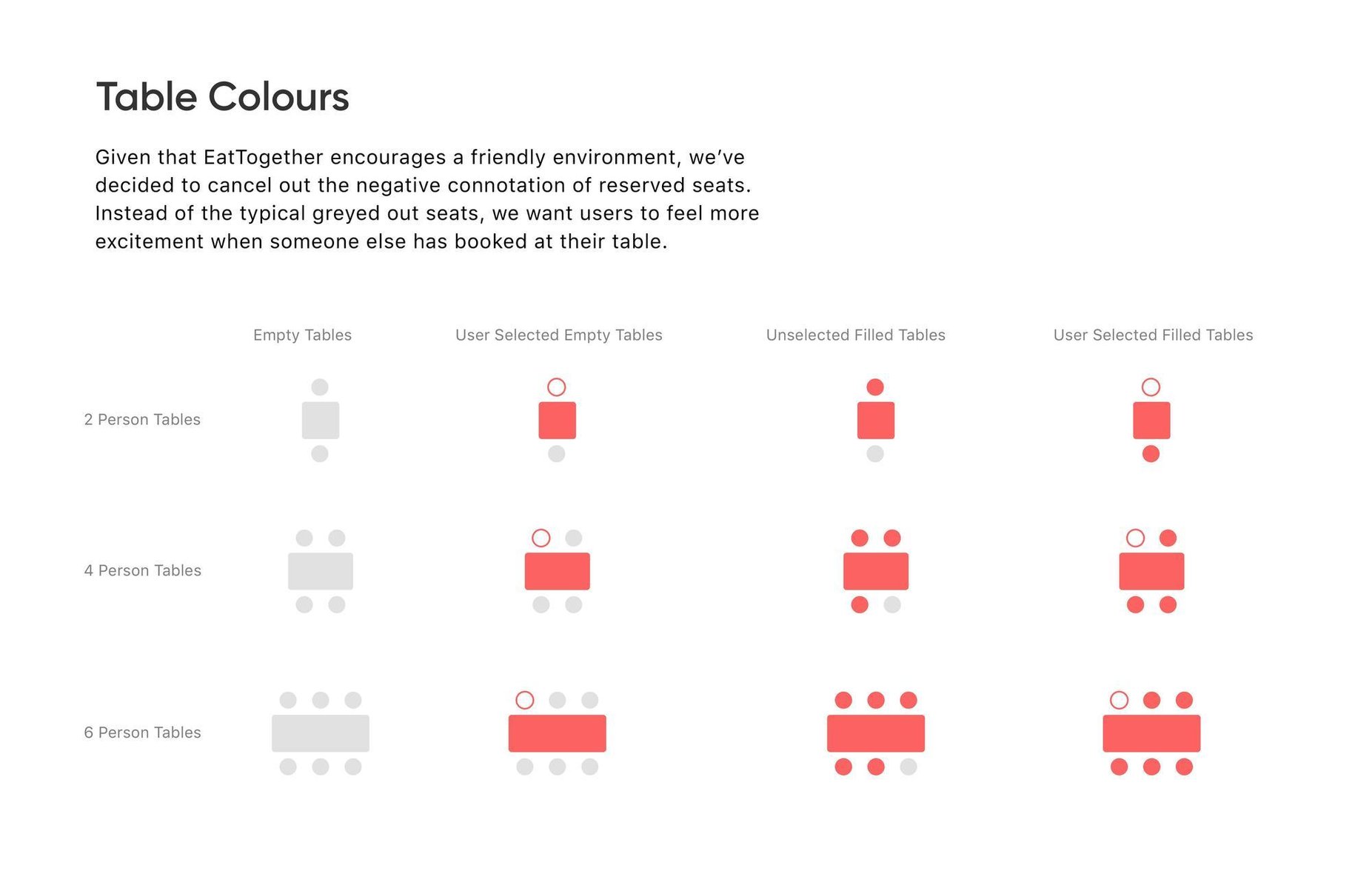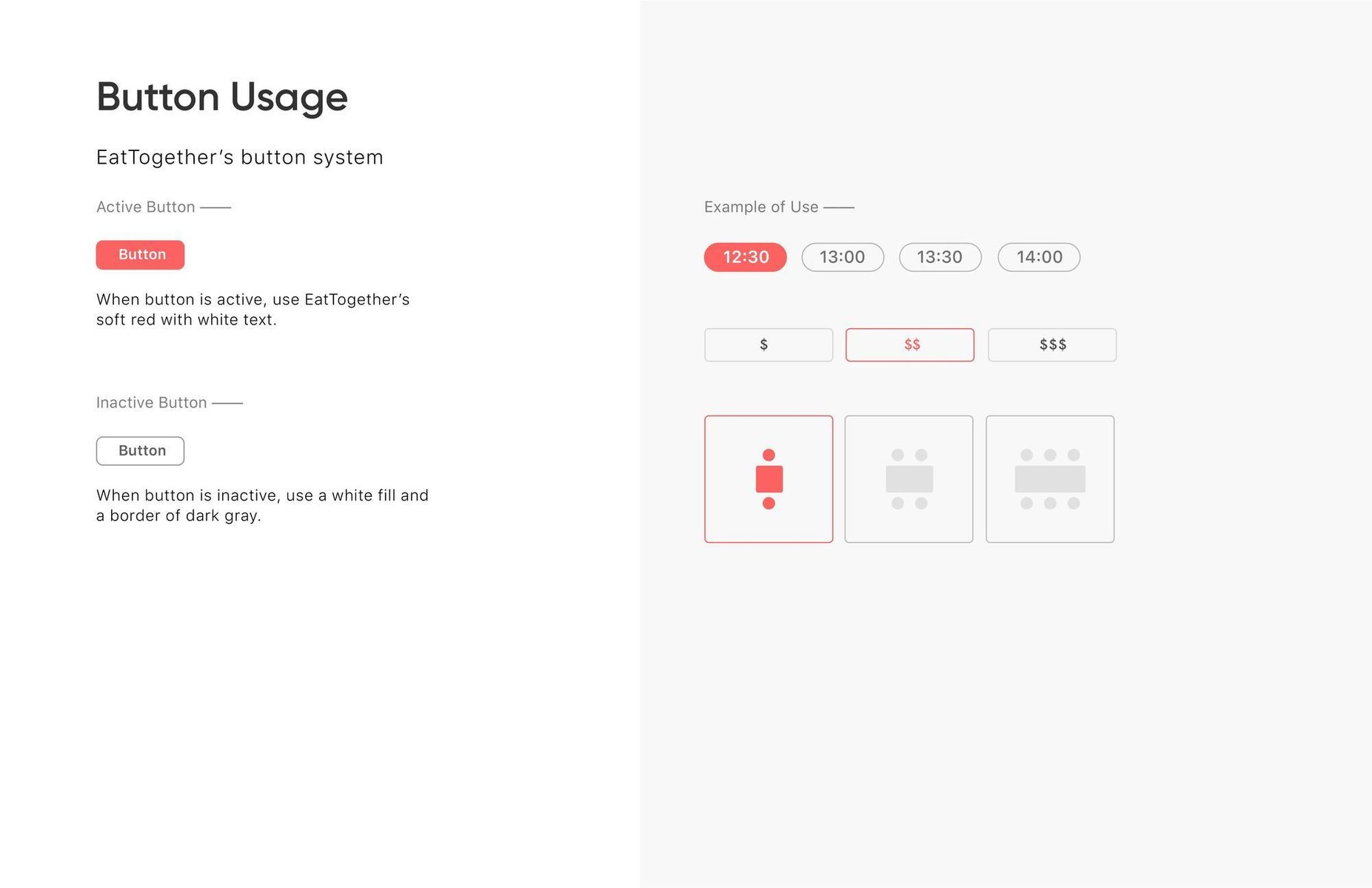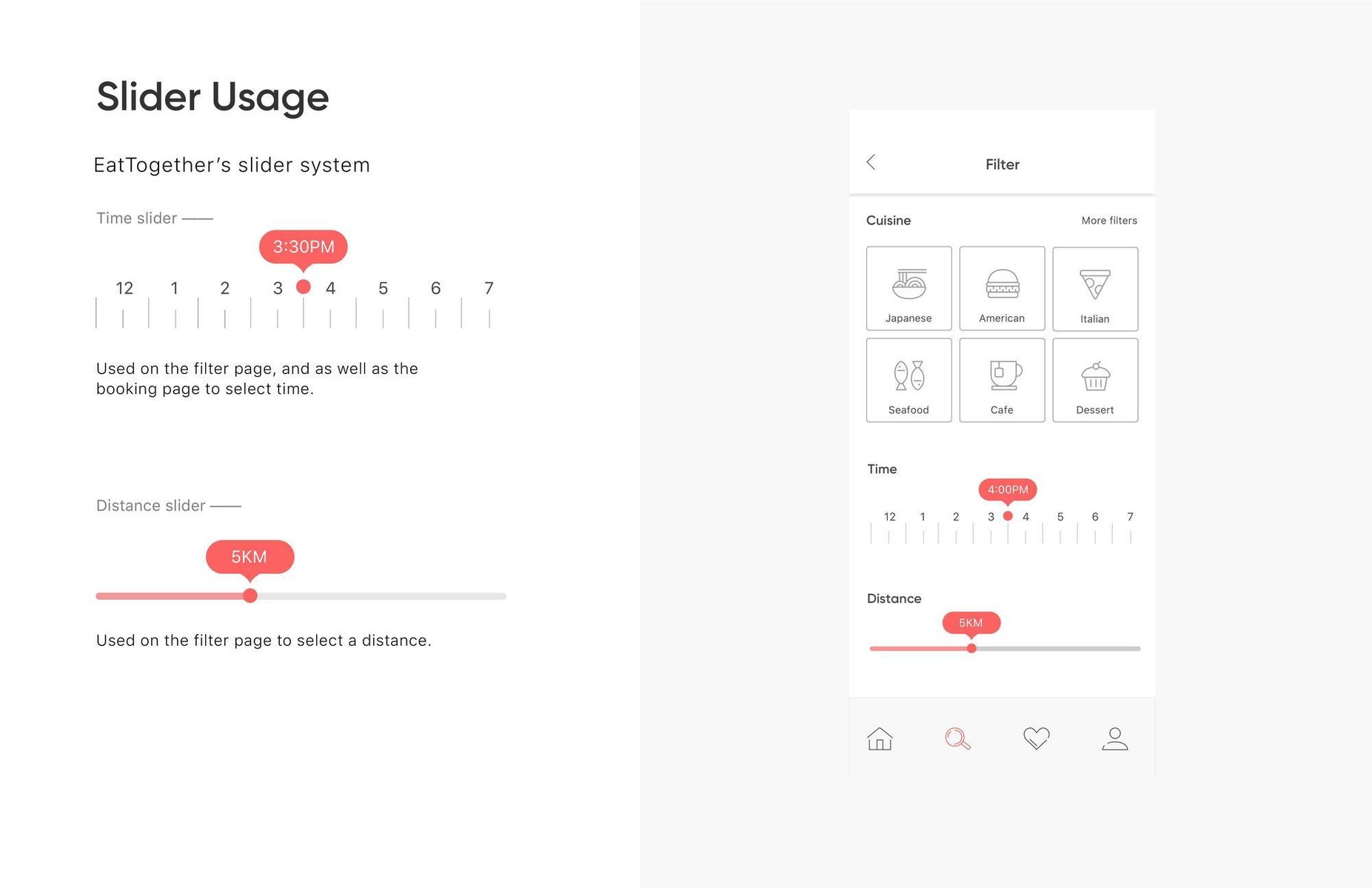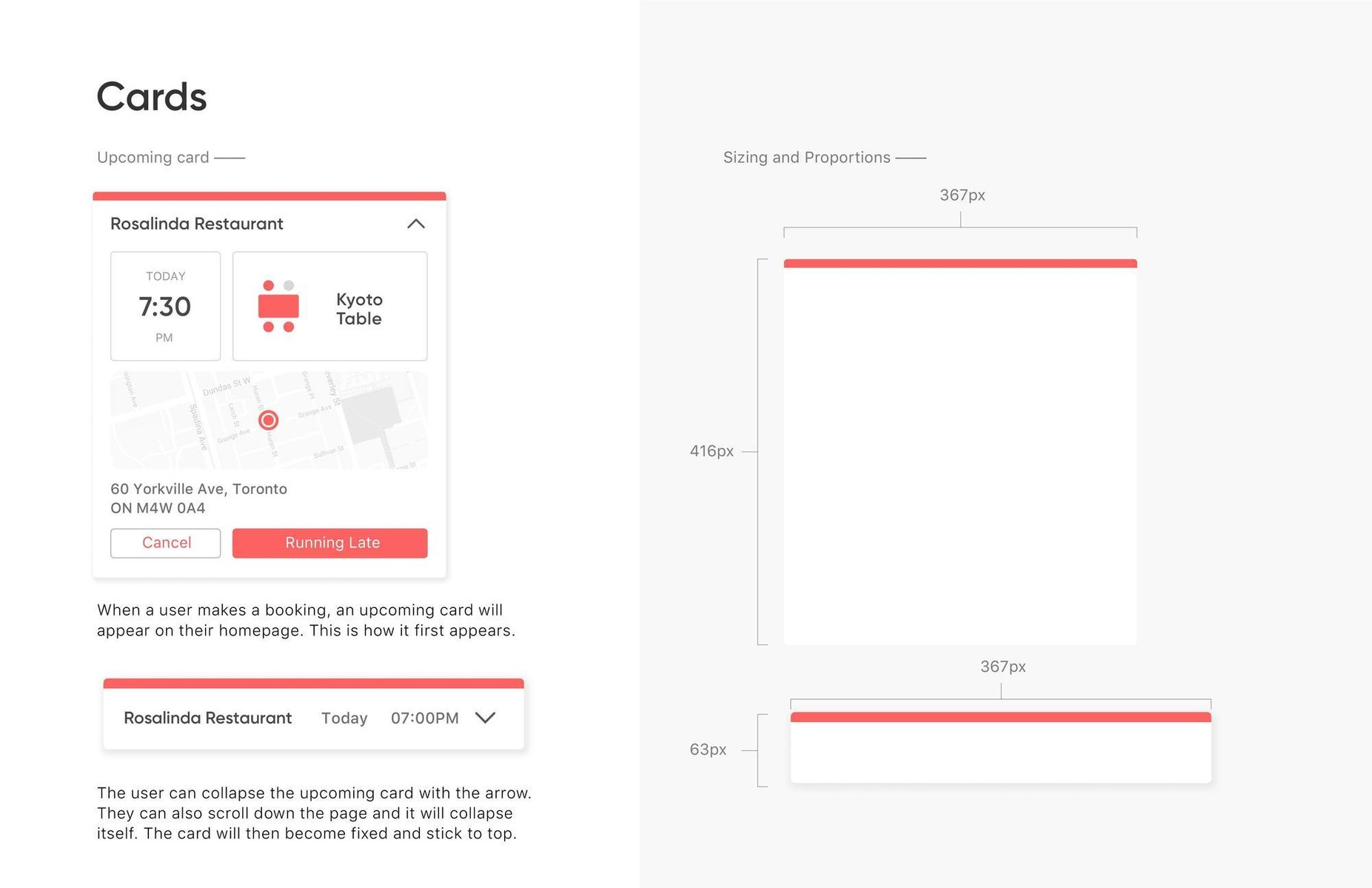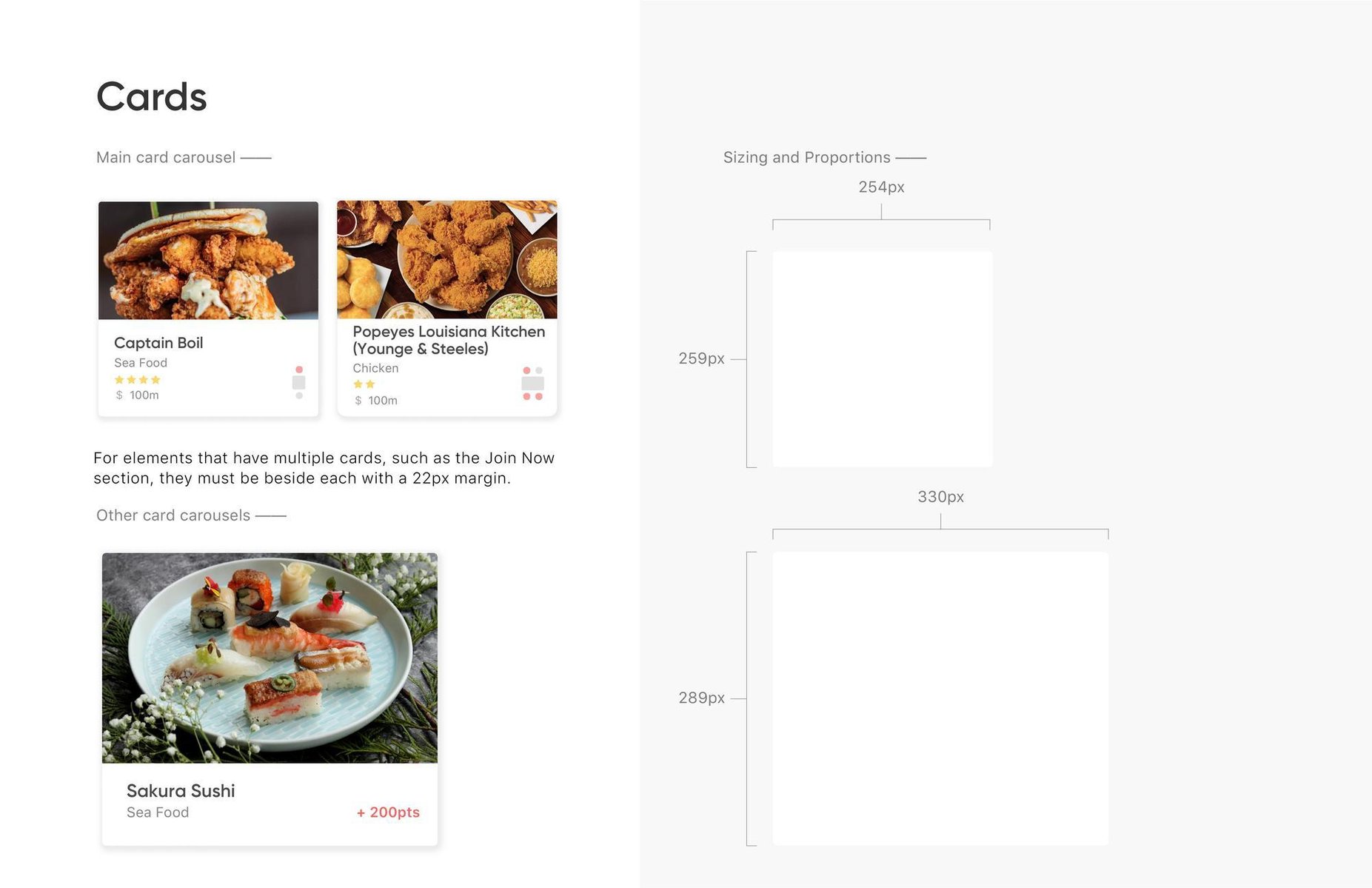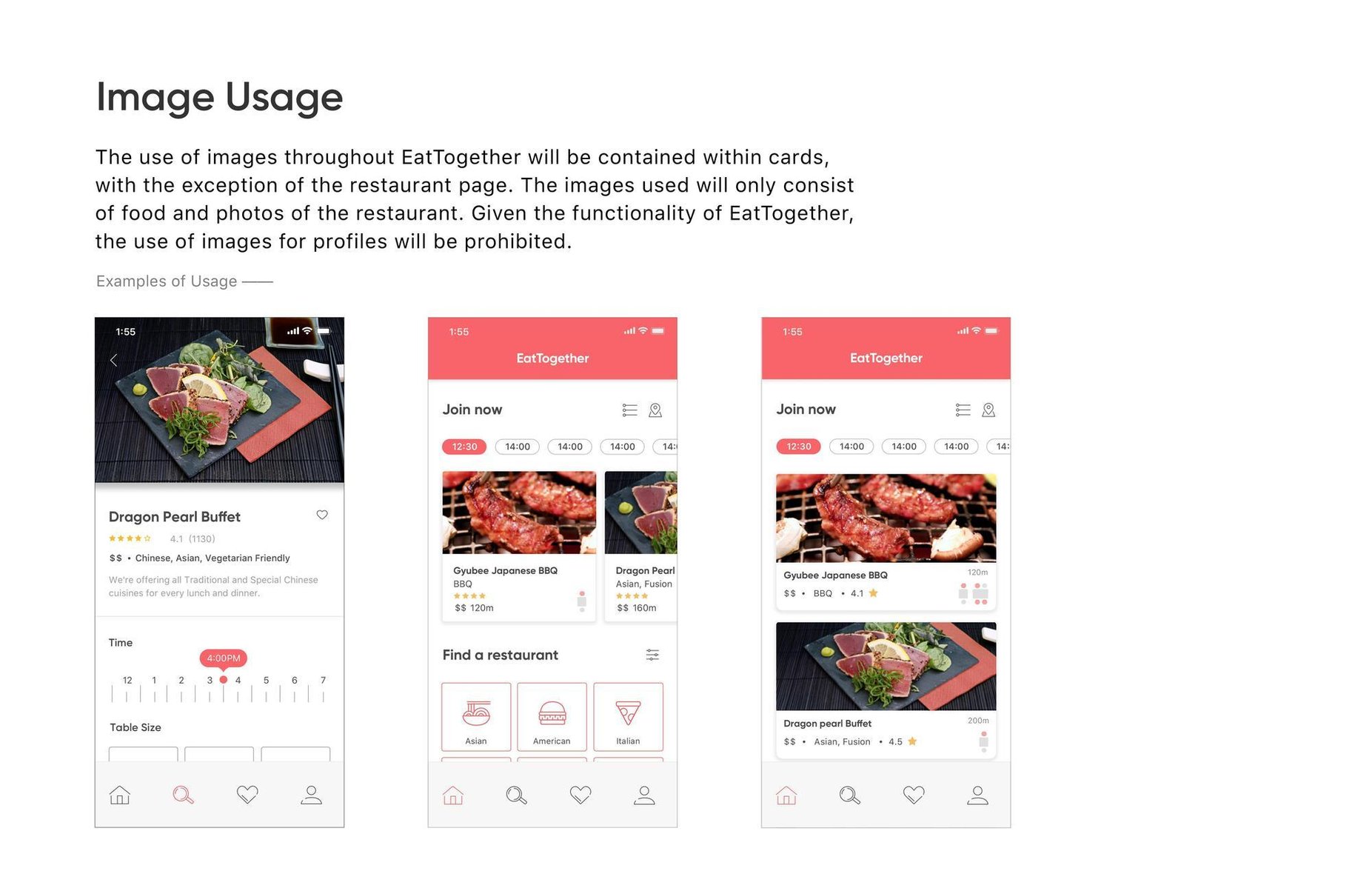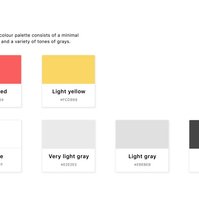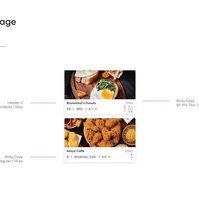 User Testing
Using our prototype created in Origami Studio, we conducted 4 user tests across two target groups, 2 students and 2 office workers. These were conducted in a lab where we recorded voice, screens and hand interactions.
Users were given a set of prompts that included direct commands or questions, such as "Check out nearby tables at 1:30PM" or "How much reward credit do you have?" Throughout the process, we took turns facilitating the tests, encouraging and reminding users to 'think out loud' and being mindful of giving too much guidance.
Being our whole team's first time conducting formal user tests, it was interesting to see how valuable the data actually was. The data we collected translated into actionable insights that impacted our final design quite a bit.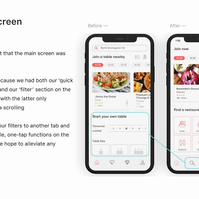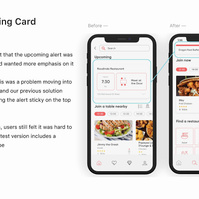 Reflection
This project marked both my first time conducting user testing and my first time collaborating within a group of designers to build a product from scratch. It was a thoroughly enriching experience, and I learned so much from the process and my peers.
I am eternally grateful to my team members, Candice, Ian and Leah for their support and the good times. It was great to see us come together and each offer something uniquely valuable to the team.